Palmetto Cheese Creates Jobs With Expansion Into Walmart
The homemade, southern style brand of pimento cheese adds Walmart to it's distribution network and creates a ripple effect for all involved.
Pawleys Island, South Carolina April 18, 2012 – – Palmetto Cheese – The Pimento Cheese with Soul has added 699 Walmart stores; which brings the South Carolina based company to approximately 2,700 locations in 24 states, Washington D.C. and Puerto Rico. Arkansas, Indiana, Missouri and Mississippi are new additions to the pimento cheese brand. The growth of the company has created jobs for product owner, Pawleys Island Specialty Foods, and their manufacturer, Duke Sandwich Productions. Pawleys Island Specialty Foods employs 11 workers; which includes demo staff, marketing personnel, and business operations. Dukes Sandwich Productions, based in Simpsonville, SC, has 20 current employees with a second shift starting April 16 that will add 10 new staff members to handle the increase in production. Walmart sampling demos will also subsidize 699 temporary positions to help roll out the product.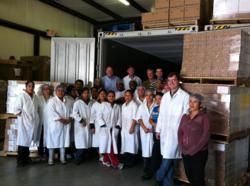 Duke Sandwich Productions started producing Palmetto Cheese for Pawleys Island Specialty Foods in early March of 2008. Back then, Duke was making 400 pound batches of pimento cheese every other week. As of 2012, production is exceeding 75,000 units per week. When asked what Palmetto Cheese has meant to Duke, John Mack, Executive Vice President at Duke Sandwich Productions, said "the numbers speak for themselves. It has provided an instrumental base in the development of a new 80,000SF facility to be operating in Fall of 2012". Duke Sandwich Production staff handles the day-to-day manufacturing and packing of Palmetto Cheese for distribution. The company also handles online orders placed on Palmetto Cheese's website.
Links
Duke Sandwich Company
Pawleys Island Specialty Foods
Contact Information:
Brian Henry
palmettocheese@sc.rr.com
1-888-406-9823